Isn't it frustrating that you have launched a new product or written a new blog post and it gets no traffic?
In this article, let's take a look at how your existing customer base and site traffic can be used to generate product interest and even traffic to your website consistently.
Most sites will drive some traffic and get some enquiries but will do very little beyond trying to get site visitors to fill in an enquiry form or run a quote. If this is the main driver of the site, then for every 100 people that visit the site possibly 95 of them will leave without enquiring or carrying out a quote. So this means your site is converting at 5% – even at 20% conversion 80 out of every 100 visitors don't do anything but leave. Quite depressing really…
If you are buying in this traffic then this does get costly…
With a few tweaks to your pages and processes, you can use this traffic to start building an email list, which you can then use to email to each week or month with targeted offers and also links to your useful blog content.
Add email or newsletter signups to your pages, which could be something simple as asking for an email address. In return you can provide something in exchange – maybe a 5% off discount code or a free downloadable checklist or guide relevant to your target audience.
In this way you are giving away something of value in return for an email address.
You do need to sell the benefits of subscribing to your list.
What do you need to get this going?
You will need some kind of email service provider (ESP) to allow you to build email capture forms, manage subscribers and allow you to send messages. There are a number of services out there. We personally use GetResponse to manage our email signups.
You also need some kind of offer or giveaway to entice your site traffic to signup to your list. This could be:
PDF Guide
PDF Checklist
Discount code
Money off voucher
In fact, you are only limited by your imagination. You could also have multiple offers depending on the type of traffic and product areas they are interested in. The offer for a business owner could be different from a caravan owner.
And by using an ESP you can segment that data, or have multiple lists you can send different content and offers to.
While this sounds like a lot of hard work, I am not going to lie, it is upfront – but once in place it is a case of building the lists and letting the system follow up.
This is done by simply driving the traffic as you have been doing.
Here are some ideas of what others in the space are doing
We would have loved to have shown UK insurance specific landing pages but there are very few doing it so here are some finance related ones..
Love him or hate him, Martin Lewis has build a very, very successful business based in part on his newsletter. Check out his signup process
Look at the MoneyAdviceService Email Newsletter signup – shame it is being withdrawn. This sits underneath all of the articles on the site.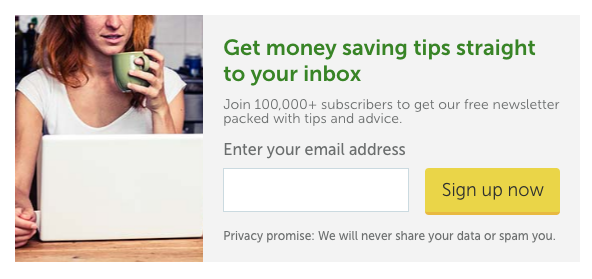 Savvywoman is a personal finance site aimed at women and again there is a clear signup box on every page of the site.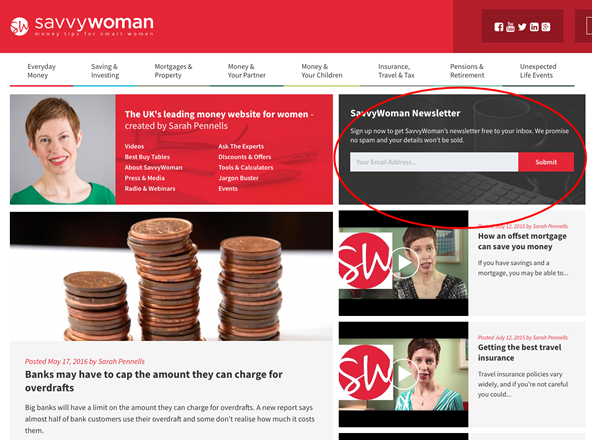 Taking this to the next level
Once you have these systems in place you can even have your email enquiry forms feed into your ESP as well, so each enquiry you generate will also add these enquirers to your email database.
Best practices
Use an opt-in process, so once they have signed up, the ESP can send them an email to get them to opt into receiving your information. Make sure you do this with ALL of your signups, either via an enquiry form or via the signup boxes dotted around the site.
This keeps you on the right side of the law. It is also wise to ensure users have an opt-out or unsubscribe link within any email your ESP sends out, so your newsletters and marketing messages. Again this is best practice – it gives subscribers the ability to unsubscribe – but as you are providing huge value to them, why would they want to leave your list?
One thing we are recommending all insurance companies do is ensure their emails work on mobile devices. More and more people are accessing their email on their smartphone so do make sure your emails are correctly coded to work on both desktop computers and mobile devices. This will really improve engagement and open rates.
Email marketing
Once you are have started to collect this information you need to start emailing it consistently – don't wait until you have 1,000 email addresses, that could take 3 or 4 months to build as when you finally send out the email, people will unsubscribe as they won't remember you.
Make sure you have at least one email ready to go. For those insurance companies starting email marketing for the first time we suggest having a monthly newsletter. In this way, you can split it into maybe 1 main offer and then 3 or 4 links to content on your site or your blog. Or you can even link to other useful and related content. In this way, you are providing real value to your users but without the need to write everything yourself.
As you can hopefully see, once you have a fair sized email list, each month you can send out links to your new content and get people back to your website.
You can also use that list to launch new products and services. You can even use the database to soft launch a product, so you can email out your list with an offer before you integrate it or invest in it fully on your website. Consider it user testing and product research all rolled into one.
Summary
Building an email database of potential clients or those interested in your products and services is a great way to increase revenues but also a great way to get your new content read and shared.
If you are driving a lot of traffic to your website and not building a email database or databases then you need to do this as a matter of urgency.