If you run an insurance company and are looking for new ways to attract clients, launching or revamping your website is a pretty effective way to welcome a flux of new customers.
In creating your website, one of the most important points is the choice of the right template that will work really hard for you in terms of its functions, and will stand out from other insurance businesses.
In this post, here are 10 modern insurance themes that are ideal for creating an insurance company website. These themes were skilfully crafted by TemplateMonster, one of the leading experts of the template market. To experience all their different templates, see the full collection of their new WordPress themes.
Business Insurance Responsive WordPress Theme
This template has robust and flexible structure, powered by CherryFramework5. You'll be stunned by template's rich functionality that makes your website extremely user-friendly. The set of plugins that come with the template includes such effective solutions as Cherry Services, Cherry Team Members, TM Gallery, Power Builder and Live Customizer. The theme includes plugins that power online timetable and appointment booking system on your website.
Plan for Tomorrow: Insurance WordPress Template
People love making plans for tomorrow and prefer to be on the safe side buying an insurance plan. Appeal to their emotions with this warm, prepossessing template that features authentic photography. The theme's layout can be tweaked by the users of all skill levels without spending extra time and money. You can add content of custom types and formats, such as aside, gallery post, link, quote, images, audios and videos.
Travel Safe: Travel Insurance Provider WordPress Website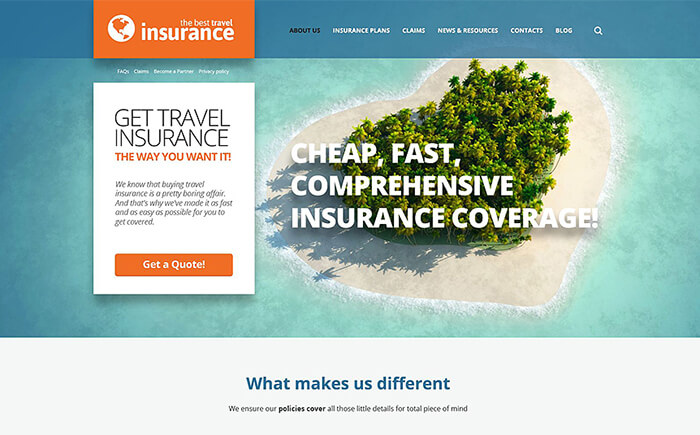 Stimulate user's appetite to travel by inspiring imagery on your website, and effectively promote your services with smartly placed call to action (CTA) buttons. Template's home page immediately captures site guests attention with immersive top slider, and keeps the guests entertained while they scroll the page with Parallax & LazyLoad effects and colourful travel-related icons. The template is 100% responsive, and you'll pleased by how polished your website looks on different screens, from the smartphone ones to large desktops.
Safety on the Road: Car Insurance Responsive WordPress Site
This reserved, unobtrusive template is created for car insurance companies but will also do for companies that offer other types of insurance. The theme incorporates all the necessary trust signals, such as contact details, Google map, testimonials of your clients, About Us section, etc. Working with your website content has never been simpler, as 80+ shortcodes allow you to integrate different types of content (such as tabs, post grids, accordions, blurbs, audios, videos and much more) to your website pages with ease.
Vacation Security Responsive WordPress Site Design
This travel insurance theme breathes with optimism and warmth of safe vacation. With it, you can extend the boundaries and work on the global scale as the template is translation ready. Installing the template won't be a headache, as the automated installation process is accomplished in a couple of clicks. The template also provides you with extended backup options, so that you can be sure that your customization progress will never be lost.
Insurance You Need: Insurance Services Responsive WordPress Theme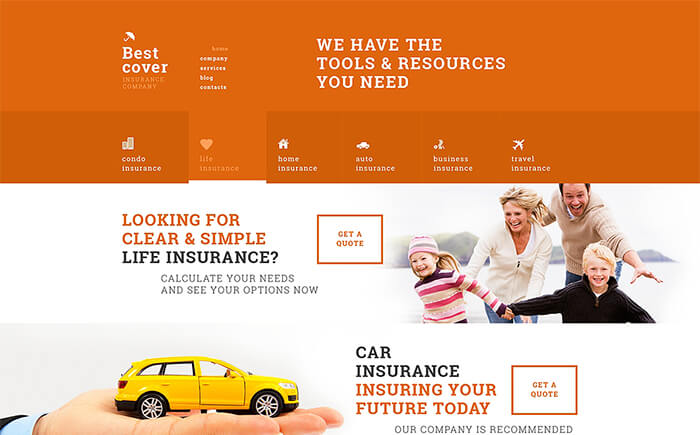 Juicy orange colour of this theme supercharges website guests with your positive attitude and fresh energy. The theme comes with a number of prebuilt pages, such as Life Insurance, Home Insurance, Car Insurance, Business Insurance and Travel Insurance that let you create an all-encompassing insurance website on the fly. The template is optimized from the SEO perspective and provides you with rich SEO-options that let you rock the first page of search results.
All Covered: Insurance Responsive WordPress Template
If you want to stand out of the crowd, go for this burgundy-coloured theme that makes your website truly remarkable. The blocks of this responsive template rearrange, depending on the size of the viewport that they are viewed at, and create an intricate mosaic. With pixel perfect typography and content oriented design of this template, you can go the extra mile to prove that you are a smart, serious insurance business.
Beneficial Insurance WordPress Website
Minimalist design of the template ensures persuasive and well-structured presentation of your website contents. Users will find your content details handily provided in the website header, so that they never have to go search for them. The theme provides you with extensive set of custom widgets that you can display on the website home page and in sidebars on other pages.
Effective Insurance Responsive WordPress Site
Readable fonts, flat icons and animated slider are among the main attractions of this insurance template. The theme is fully-editable and WPML-compatible. You can add as many languages to your website as needed and place a language switcher in website header and/or footer. The template offers you multiple colour options, so that you can change the colour palette of your website, whenever you feel like doing this.
Your Confidence: Insurance WordPress Site Design
This is a perfect template for informative and visually rich presentation of your services. Based on Bootstrap, the template provides you with 100% responsive website design that takes care of all the diversity of viewing ports. Make use of the inbuilt Theme Customizer to tweak setting of your template and add shortcodes to your website pages to fill your pages with content of different types.